Recognised internationally for excellence in human rights law in Africa, the Centre for Human Rights is uniquely positioned as both an academic department and a non-governmental organisation. A leader in human rights education in Africa, the Centre works towards a greater awareness of human rights, the wide dissemination of publications on human rights in Africa, and the improvement of the rights of women, people living with HIV, indigenous peoples, sexual minorities and other disadvantaged or marginalised persons or groups across the continent.
The Centre for Human Rights at a glance in 2020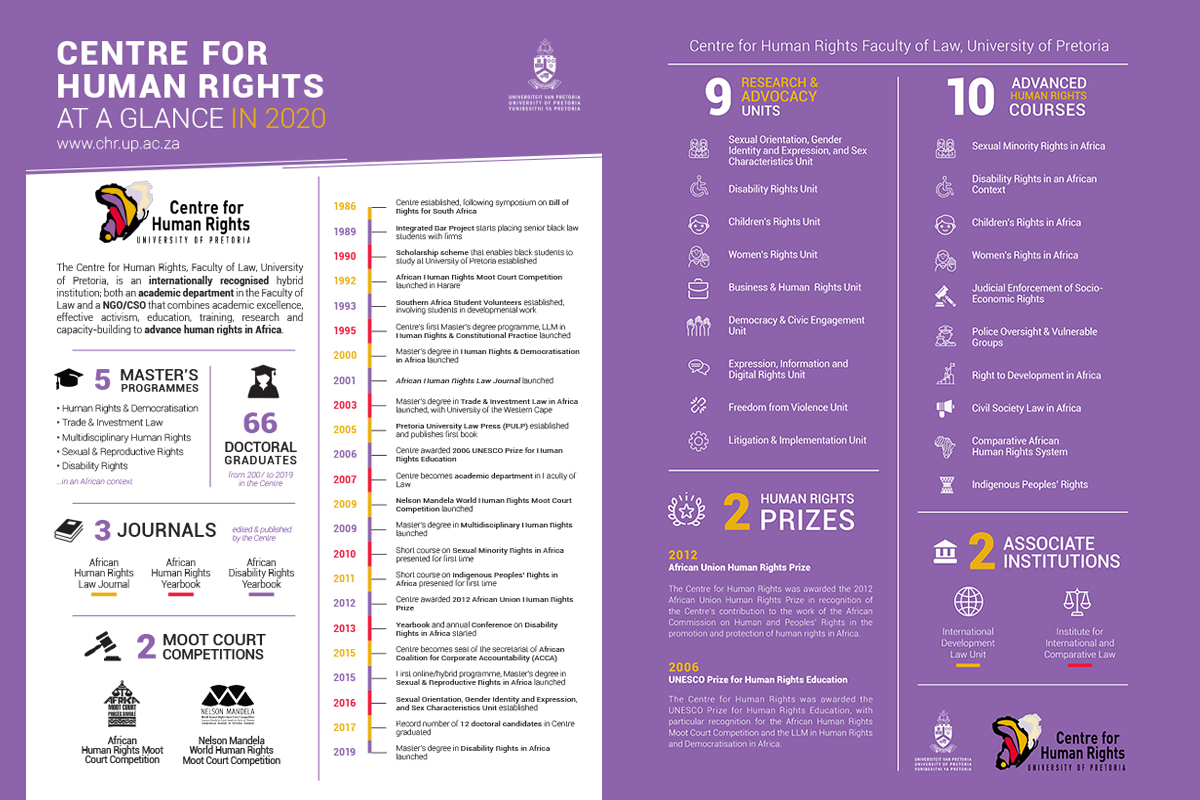 ---
History
The Centre was established in the Faculty of Law, University of Pretoria, in 1986, as part of domestic efforts against the apartheid system of the time. Members of the Centre participated in meetings with the liberation movements outside the borders of South Africa, organised conferences and participated in efforts to promote human rights in South Africa, and, when the transition came, served as technical advisors in the constitution-writing processes.
Over the years, the Centre's focus broadened to encompass diverse issues of human rights law in Africa, and international development law in general. Today, the Centre is at the hub of an unmatched network of practising and academic lawyers, national and international civil servants and human rights practitioners across the entire continent. An ever-growing cadre of Centre graduates now contributes in numerous ways to the advancement of human rights and democracy and the strengthening of institutions all over the African continent, and beyond.
In 2006, the Centre for Human Rights was awarded the UNESCO Prize for Human Rights Education, with particular recognition for the African Human Rights Moot Court Competition and the LLM/MPhil in Human Rights and Democratisation in Africa. On the occasion of marking 25 years of its existence in 2012, the African Commission on Human and Peoples' rights awarded its Human Rights Prize for civil society oranisations to the Centre.
---
Centre for Human Rights Values
The Centre is guided by human rights, in particular the equal dignity of and respect for everyone. It adopts a human rights-based approach to all its activities.
We are bound by and uphold all UP policies. In particular, we strongly disapprove of sexual harassment, misuse of authority, racism, homophobia, sexism, xenophobia, religious and other forms of intolerance.
We act with compassion to ensure the inclusion and protection of those most vulnerable to human rights violations.
We aim to provide a non-judgmental and participatory convening space where intellectual freedom prospers.
We commit ourselves to act with integrity in all our endeavours, by acting with fairness to all.
We consider ourselves to be accountable to everyone involved in our work, our partners, our colleagues, the Faculty and broader University, and our donors. We uphold the principle of transparency.
We commit ourselves to act with professionalism, and be effective and efficient in our use of human and material resources.
We strive to advance the spirit of Ubuntu by cultivating acceptance of diversity and difference, and by working in solidarity with each other and our partners.
We endeavor to strengthen pan African institutions and to foster a pan African identity.
We commit ourselves to invest in the future of Africa's youth.
---
Celebrating 30 years in 2016
---
Centre for Human Rights Milestones