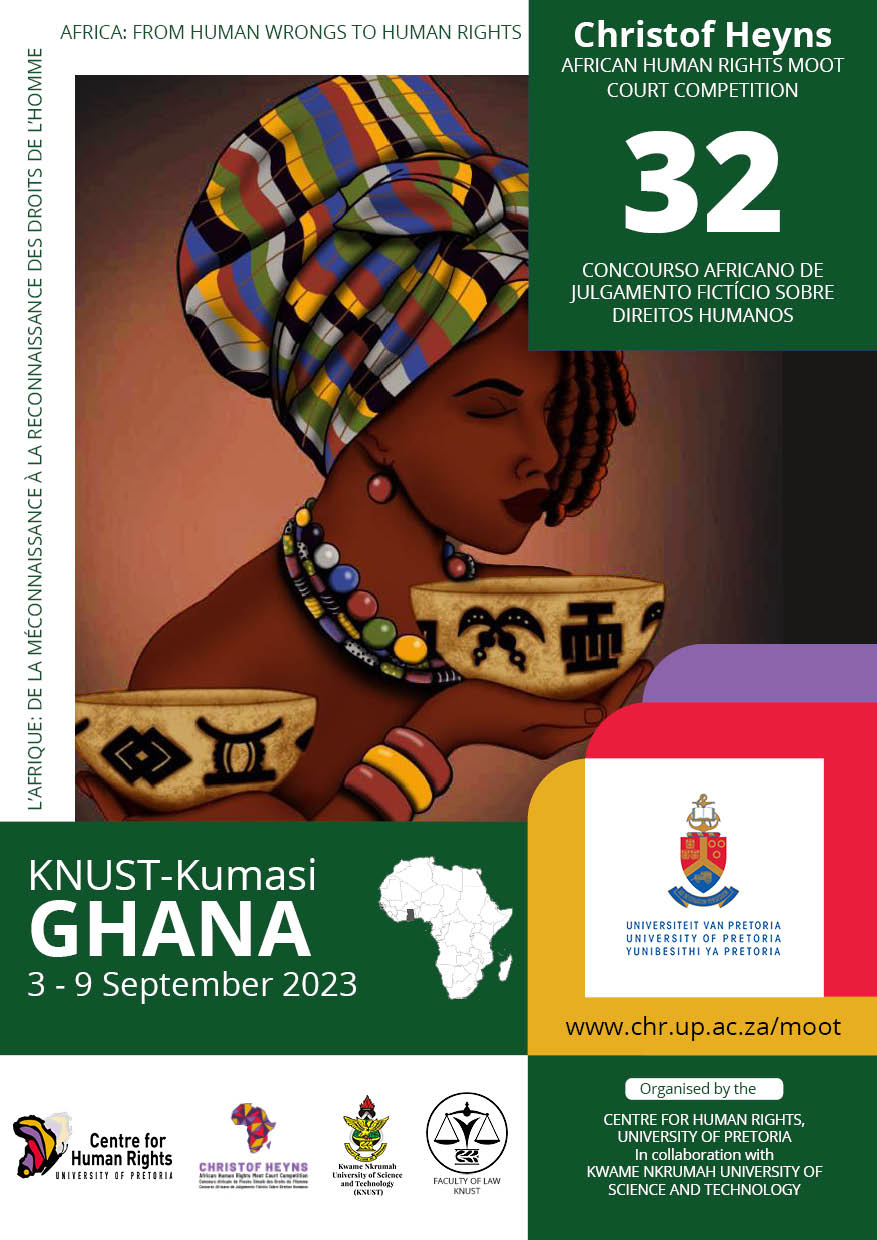 32nd Christof Heyns African Human Rights Moot Court Competition
Kwame Nkrumah University of Science and Technology, Kumasi
3- 9 September 2023
Kumasi, Ghana
---
Registration 2022
Registration for the 32nd African Human Rights Moot Court Competition is done in three steps:
STEP 1
Faculty Registration
Start: 30 November 2022
Close: 30 April 2023
STEP 2
(max 2 students and 1 Faculty Representative)
Start: 1 April 2023
Close: 30 June 2023


STEP 3
Submission of memorials
Start: 15 June 2023
Close: 30 July 2023
---
Conditions of Participation
The 32nd Christof Heyns African Human Rights Moot Court Competition will be hosted by the Kwame Nkrumah University of Science and Technology, in Kumasi from 3 - 9 September 2023 Kumasi, Ghana.
The university must register two students and one faculty representative. Students participating in the Moot should not have completed their first degree in law. It is the responsibility of the universities to ensure the smooth preparation of all travel arrangements. Faculties assume full responsibility for the arrangement and cost of accommodation during the Competition. The organisers (the Centre for Human Rights and the host university) undertake to assist participating teams by negotiating, on their behalf, with service providers to obtain reduced rates on accommodation. The organisers will continue to support all faculties by providing local transport and meals during the duration of the Competition.
The normal precautions applicable to international travelling should be taken. Valuables, especially memorials, should not be put in check-in luggage as this is sometimes lost by the airlines. Instead, they should be kept in hand luggage. It is strongly advised to leave a copy of the important pages of your passports both in your home country and in your room at the Moot in case you lose the originals.
The organisers will help to facilitate access to medical care where needed, but cannot assume responsibility for such costs. It is the responsibility of participants and participating institutions to make sure they take out medical insurance in advance or have other plans in place to cover such costs. It is advisable to travel with some medications such as pills for diarrhoea and painkillers.
Participants are required to keep themselves informed about the Moot by regularly visiting the website: www.chr.up.ac.za
---