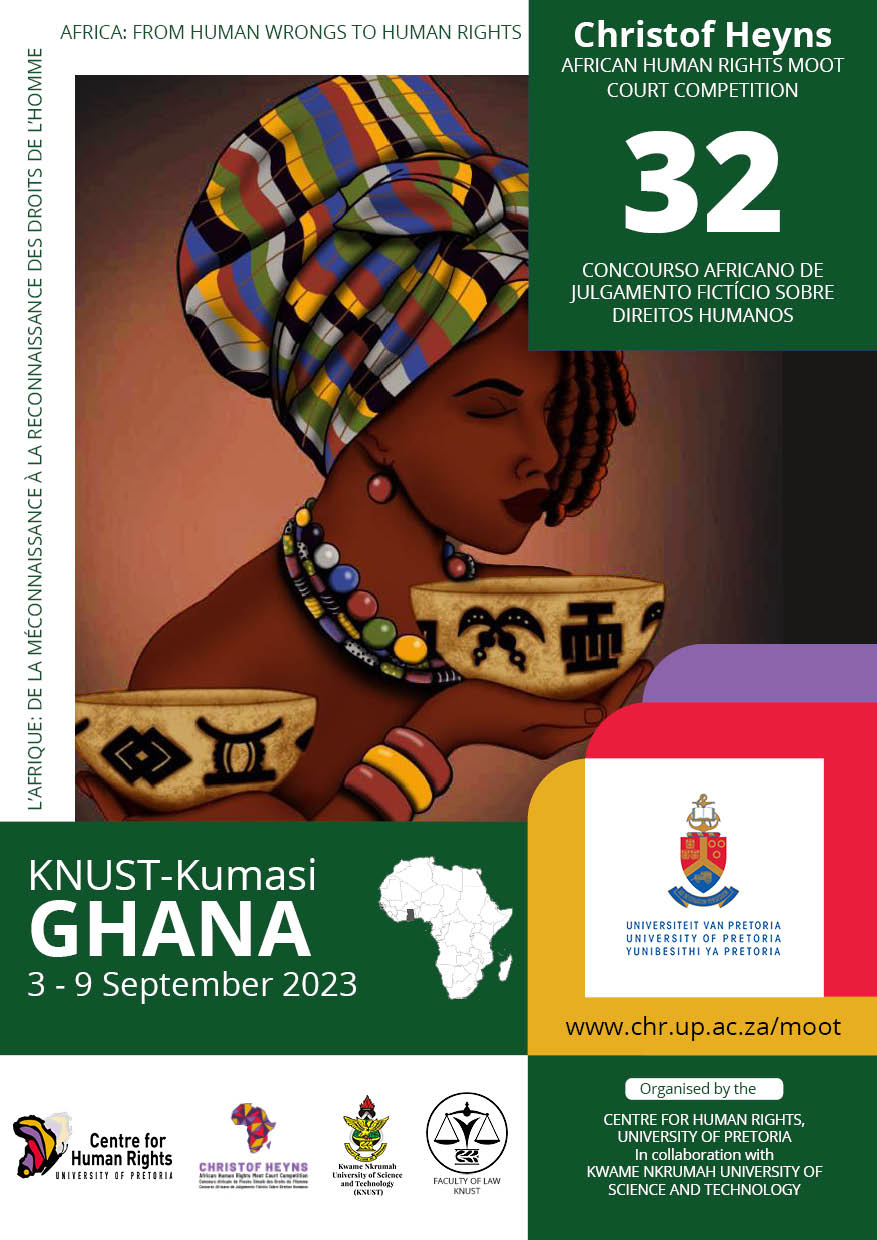 32nd Christof Heyns African Human Rights Moot Court Competition
Kwame Nkrumah University of Science and Technology, Kumasi
3- 9 September 2023
Kumasi, Ghana
---
The Christof Heyns African Human Rights Moot Court Competition is the largest gathering of students, academics and judges around the theme of human rights in Africa. This annual event brings together all law faculties in Africa, whose top students argue a hypothetical human rights case as if they were before the African Court on Human and Peoples' Rights. The Competition continuously prepares new generations of lawyers to argue cases of alleged human rights violations before the African Court.
Current edition: Reema Lawyers for Human Rights and The Republic of Reema before the African Court on Human and Peoples' Rights. Materials for the current edition are available in the Competition website. The preliminary rounds of this year's competition will be held virtually, the quarter-final, semi-final and final rounds of the 30th edition of the Moot Competition will take place from 26 to 31 July 2021, in Stellenbosch, South Africa.
In order to contribute to the preparation by participants in the Competition, the Codification Division has compiled resources available on the UN Audiovisual Library of International Law (AVL) for the 2021 edition of the Competition. Students will be able to draw on the resources available on the AVL website, including the Lecture Series and the Mini-Series, together with the related materials used in the preparation of lectures, the Historic Archives, as well as the International Law Handbook.
---
Lecture Series
The Lecture Series contains a permanent collection of lectures of enduring value on virtually every subject of international law delivered by leading international law scholars and practitioners from different regions, legal systems, cultures and sectors of the legal profession. Each lecture is accompanied by a list of related materials linking to documents available online. Lectures are available in video and audio formats.
A. Courts and Tribunals
Procedure
Regional Courts
B. Human Rights
History
Judicial Remedies
Regional Perspectives
Treaties
Women
C. International Law
Mini-Series
The Mini-Series is a series of lectures delivered by leading international law scholars which aims to provide a general overview of the core topics of international law, primarily intended for users with basic or little knowledge of international law. Each mini-series provides a comprehensive introduction of the concerned topic and presents key issues for further study, which are often covered by specialized lectures in the Lecture Series.
International Human Rights Law
Droit international des droits de l'homme
Mme Hélène Tigroudja
Partie I - Introduction en droit international des droits de l'homme
Partie II - Les sources hybrides du droit international des droits de l'homme
Partie III - Les mécanismes de protection et de mise en œuvre des droits de l'homme
Partie IV - L'herméneutique du droit international des droits de l'homme
Partie V - La mise en œuvre des droits de l'homme en droit interne
Historic Archives
The Historic Archives is a unique resource which contains significant international law instruments. Each entry contains an introduction to a particular instrument prepared by a scholar or practitioner with expertise on the subject, information on its procedural history and related documents, as well as the text and status of the instrument. It is accompanied by available audiovisual materials relating to the negotiation and adoption of the instrument at meetings or diplomatic conferences.
Human Rights
International Law Handbook
The International Law Handbook is a collection of instruments used by the Codification Division as study materials for its training courses under the Programme of Assistance. It is intended to be used as a general work of reference. It comprises four books, available free of charge on the AVL website:
Book One contains the Charter of the United Nations and the Statute of the International Court of Justice, as well as instruments relating to the law of treaties, subjects of international law, diplomatic and consular relations, international responsibility, peaceful settlement of international disputes, international peace and security, international human rights law as well as movement of persons and international migration law.