Founder of Hanna Foundation Inclusive School, Malawi; Albinism Activist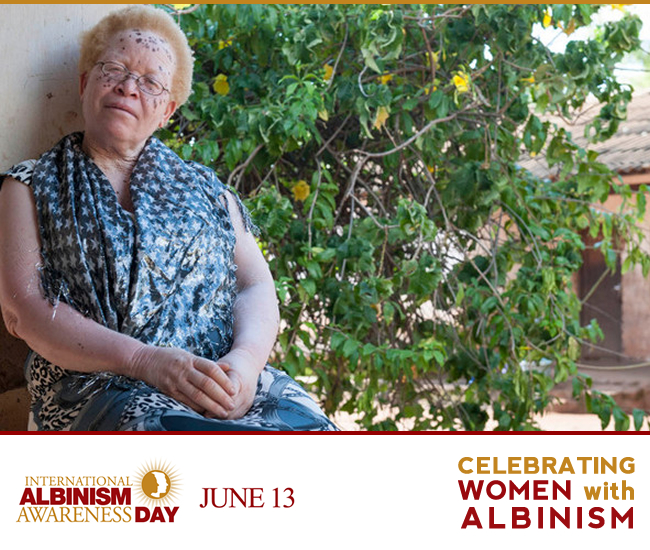 I was born in Malawi, Blantyre. As a child I had experienced no discrimination until I began primary school. Here, I found out that I was different.Other children would call me 'mzungu panda chuma', which means, a white person without money. Due to my low vision,my niece (sister's daughter) would help me obtain the important information taught in class that I missed.
Later on my sister transferred my niece to a different school; at this point I dropped out because I did not haveanyone to help me keep up with school. I was in standard 6.My mother and my aunt encouraged me to get married, because that was my only hope at a secure future. At 11 years old I got married, my husband was a 15 year old boy from South African.In 1987 when I was 13 years old I had my first daughter, Faith. I raised the child by myself.
At 15 I remarried, still, hoping that without education, marriage would be my way out of poverty. My second husband violated me, sexually and verbally. He would tell me I was not a real European and that I was a ghost. He was usually, always drunk. Me and my husband separated from one another, it is here that I realised that marriage would not feed me or my children so at the age of 18 I decided to go back to school. I paid my own way up to Grade 8. While, my brother covered my schooling for Grades 10 and 11.My brother and I both have albinism.My brother was encouraged by our family to continue with school. However I am a woman so my family believed that marriage was the only thing that would help me in life.
My experiences as a young mother made me resilient and aware that I should not give up. At 24 years old I finished high school and received a job at the MACOHA weaving factory. After beginning my work at MACOHA, I went to MACOHA vocational school and attained a diploma in tailoring. I later applied for a business and management course, which I graduated from in 2 years. When I went back to MACOHA I was promoted to being an office administrator.
I joined the Association of Persons with Albinism(APAM) when I was 26. Today, I have started my own organization called the Disability Rights Movement, aimed at meeting the issues affecting persons with disabilities. I am also the founder and director of the Hanna Foundation Inclusive School, a primary school that caters for children with and without disabilities .We have 103 students currently enrolled at the school.
I have undergone so much bad in my life, but I have also come out of it. It is not very safe to be a person with albinism here (Malawi), but I don't think there is nothing I cannot achieve. Just because you are a woman with albinism it does not mean you cannot achieve anything. The importance of education cannot be stressed enough. On my part ,I will always ensure that those around me, those that I can help do not experience what I had to experience and access an education.