For the last 22 years, on the first Friday of every September, South Africans from all works of life have celebrated Casual Day. This year Casua is celebrated on 7 September. Day Casual Day is a leading fundraising and awareness campaign for persons with disabilities and a flagship project of the National Council of and for Persons with Disabilities. This campaign was launched in 1995 as a way to create awareness and raise funds for persons with disabilities. The campaign encourages the public to contribute financially through a small donation of R10 for a sticker, and at the same time lobbies for the full inclusion and equity of persons with disabilities.
"BE AN EVERYDAY HERO" is the theme for this year's campaign and as such the Disability Rights Unit, Centre for Human Rights, University of Pretoria, celebrates everyday heroes with disabilities from all walks of life who through their passion and relentlessness drive have overcame multiple barriers and limitations to becoming phenomenal advocates for the inclusion of persons with disabilities and contributed to the development of society.
The Convention on the Rights of Persons with Disabilities, to which South Africa is state party signatory in its preamble recognizes the existing and potential contributions made by persons with disabilities to the overall well-being and diversity of their communities. It further emphasis that the promotion of the full enjoyment by persons with disabilities of their human rights and fundamental freedoms and of the full participation by persons with disabilities will result in their enhanced sense of belonging and in significant advances in the human, social and economic development of society and the eradication of poverty.
As we celebrate the Casual Day campaign, the Centre takes this opportunity to highlight a few protagonists of change with disabilities. These are Adv Bokankatla Malatji, Minister Michael Masutha, Ms Natalie Du Toit and Justice Zakeria Mohammed Yacoob. All them overcame the challenges and societal barriers they encountered as a result of a disability, to rise to the top of their careers and make significant contributions towards building a more inclusive and equitable society.
Just like these heroes have made an impactful contribution in building South Africa, the Centre calls upon you to stand against exclusion and discrimination against persons with disabilities and be "AN EVERYDAY HERO" on this year's Casual Day by going to work or school dressed differently, either dress up or dress down and wear the official Casual Day sticker to show your support for persons with disabilities.

For more information please contact: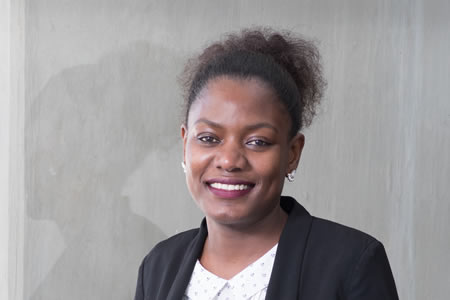 Maria Nantege
Research Assistant, Disability Rights Unit
Moyahabo Thoka
Research Assistant, Disability Rights Unit