The LLM/MPhil in Human Rights and Democratisation in Africa is a unique programme to which 25-30 individuals from African countries are admitted. The programme is presented by the Centre for Human Rights at the Faculty of Law, University of Pretoria.
In the spirit of mutual exchange aimed at strengthening the links between the regional human rights master's programmes, and following the positive experience of the EMA programme in this area, the African Human Rights Master's Degree introduced an amateur photography competition on human rights and democratisation in 2009.
Students of the LLM/MPhil Programme took part in this competition, whose aim it is to promote the ideals of human rights and democratisation through still pictures. Only currently enrolled students of the LLM/MPhil programme may take part in this competition; only photographs taken during the 2014 field trips may be submitted.
Human rights students went on study visits from 5 - 12 April 2014 and the destinations included:
Botswana
Lesotho
Mozambique
Swaziland
Venda
Zimbabwe
Students then had to submit one photograph (in colour or black and white) with a brief description of the subject and how it relates to human rights in Africa.
The winners of the competition are:
First prize - Mr Adebayo Okeowo (Nigeria)
Second Prize - Ms Sally Hurt (South Africa) and
Third Prize - Ms Lucyann Wambui Thuo (Kenya)
First Prize: My Brother is at School by Adebayo Okeowo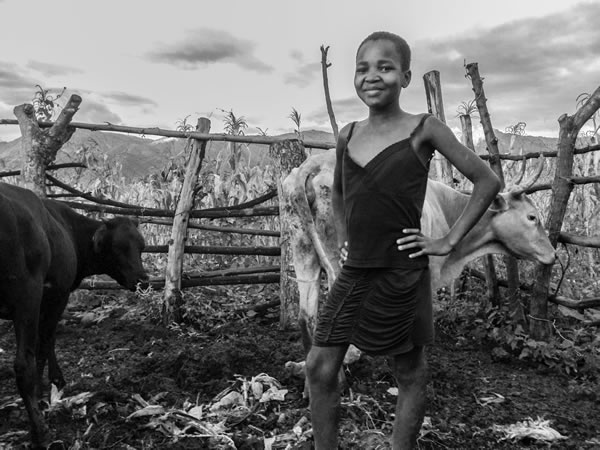 Location: Village in Ezulwini, Swaziland
Description: Her name is Madla and I found her herding her father's cows into the pen. Fascinated by the sight, I ran after her to the homestead where she brimmed with a smile as she struck a pose for my photo. She told me: "Someday I hope to be a teacher". She may however never realise this dream because under traditional Swazi culture, education for the girl child is a luxury. While the boy is given the opportunity to be educated, the girl is asked to assume 'her role' in the home to raise a family.
Second Prize: Taking food security seriously by Sally Hurt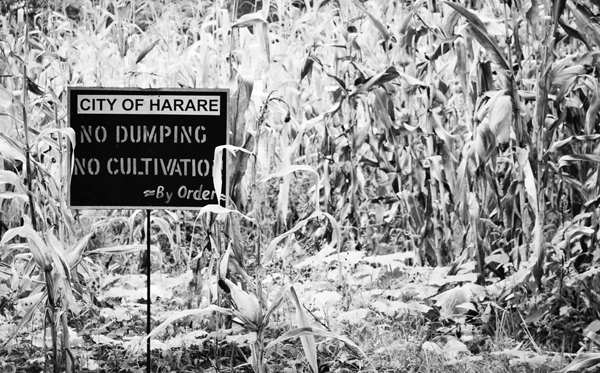 Location: Harare, Zimbabwe
Description: In a country with rising food prices, and decreasing farm production levels (often because farms are switching to more lucrative cash crops such as tobacco), people in urban areas have to find creative ways to ensure access to staple foods. This includes participating in urban agriculture projects. The Zimbabwean state is party to international and regional instruments, which have provisions guaranteeing the right to food security. The Zimbabwean Constitution also makes provision for food security. However, this sign seems to suggest that local government does not take these commitments seriously.
Third Prize: Africa, the land of milk and honey, but for who? by Lucyann Wambui Thuo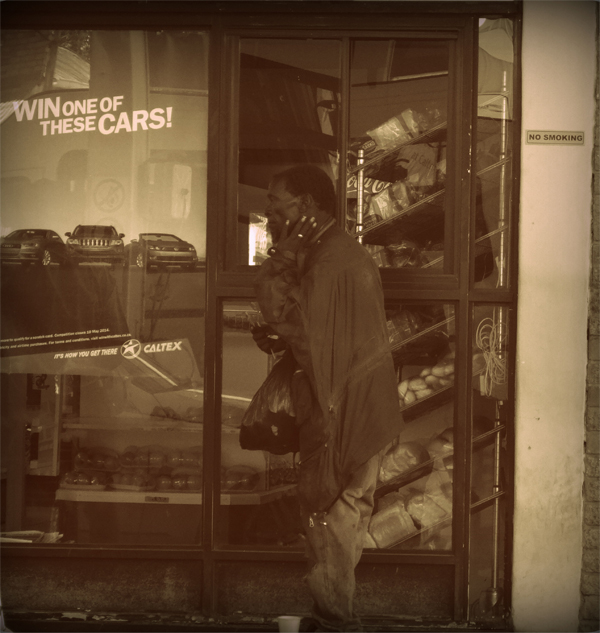 Location: Free State, South Africa
Description: This photo appeals to me because it shows the contrasts in socio-economic status of different South Africans. Whereas some people are being invited to get expensive cars and upgrade their lives, there are those who cannot easily tap into the wealth that this country has. For this man, owning a car is a very distant dream. His dream today, is for someone to put just enough money in his cup so that he can buy bread.
Top 10
These photos make up the rest of the top 10 (in no particular order)
Feed us before you feed the lions by Mariam Wambui Kamunyu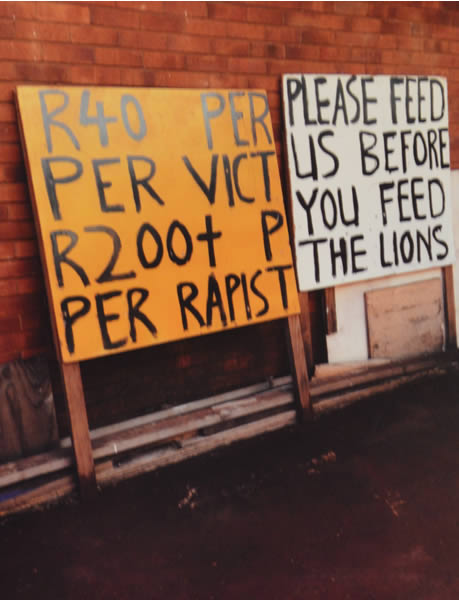 Location: Victim empowerment centre, Thohoyandou, Venda, Limpopo
Description: Picture of pickets used in a protest to plead with the South African government to dedicate more funds to rape victims especially in comparison to the huge resources spent on rapists (lions). The crux of the protest is that NGOs receive a meagre 40 Rand per rape victim as a government subsidy for their work in rehabilitating victims which is wide ranging including offering psychosocial & legal support as well as assistance to receive medical care. In stark contrast, the South African government spends at least 200 Rand per day per on rapists in terms of their maintenance in custody.
When the money comes in, ask no questions by Petronell Kruger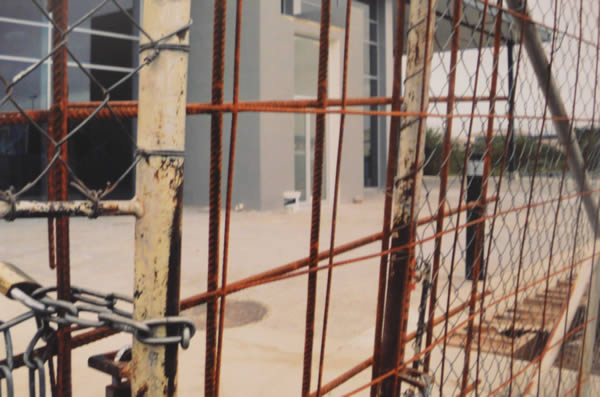 Location: A development site just outside the Financial Block in Gaborone, Botswana
Description: In 2011, Botswana won the 'Golden Padlock' award for the state in Southern Africa with the most secretive public institutions. It is within this same year that CNN ran the headline of Botswana as a miracle in Africa. It is this very dichotomy that casts serious aspersions on Botswana's claim of human rights pioneering and democratic stability.
Equal rights, different roles: equal time to get there? Gender inequalities in Venda by Denyse Amahirwe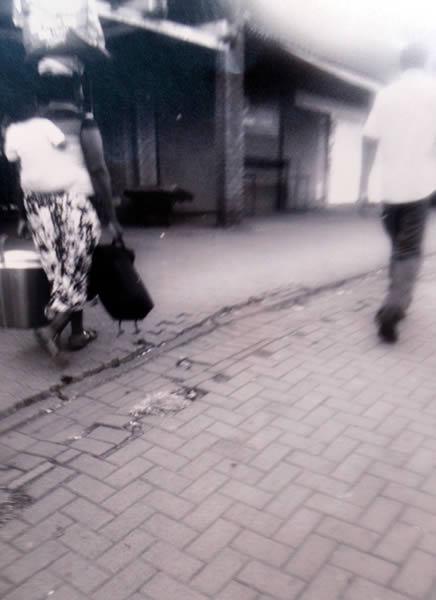 Location: Venda, South Africa
Description: The photo illustrates radical imbalance between men and women in Venda. The roles assigned to women create an overload to them to the extent that they hardly get an opportunity to advance in development discourse. On the other hand, their male counterparts have light load that allows them to advance faster, and consequently sustain their domination over women. Surprisingly, that remains true even in desperate community in which people are quite confused about where they are heading to.
Winter for the homeless in Harare by Diana Serafina da Gloria Ricardo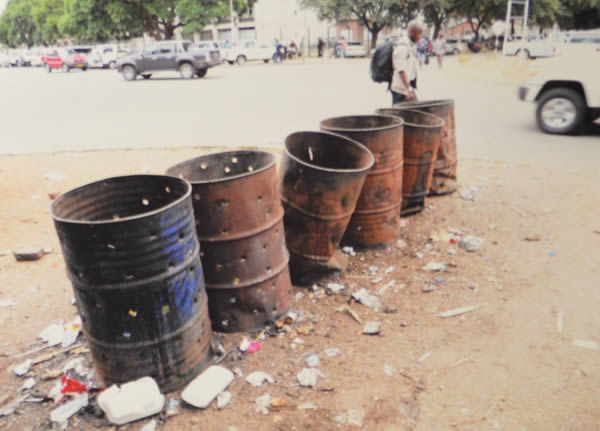 Location: Harare City Centre, Zimbabwe
Description: The photo depicts a row of burnt out metal bins in the middle of the bustling city of Harare. These bins are often used by homeless people at night to burn fires in order to keep warm. As winter approaches one wonders what is being done to protect the lives, health and dignity of people who have no place to lay their heads other than in the streets of Harare. Looking at the bins, so carefully aligned in order to protect the warmth generated by the fires, the plight of the homeless on the streets is not hard to imagine.
When the State fails to create adequate employment, the educated youths suffer more by Kudzani Ndlovu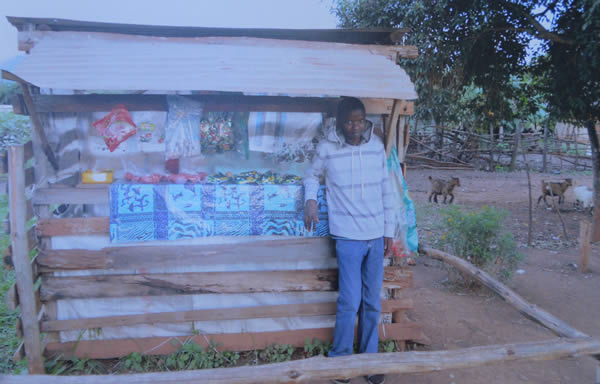 Location: Ezulwini, Swaziland
Descritpion: The future of any country lies not only in educating its children but also ensuring that they are employed after getting the education. When the state fails to create adequate employment opportunities, graduates have to dig deeper and in the process they lose their dignity. From tossing and toiling for three years to get a degree, they then go back to their rural homes to endure more hardships and ridicule from those who view education as means of emancipation. At this point their dignity is wiped away not because they are failures but because the state has failed them.
The forests in Venda cry for salvation by Victor Lowilla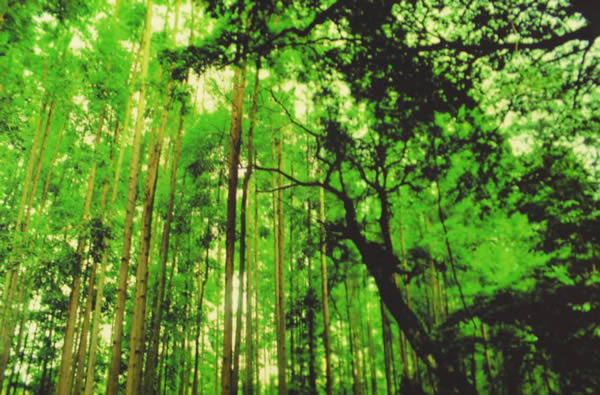 Location: Phiphidi, Venda, South Africa
Description: Nelson Mandela said: 'Long speeches, the shaking of fists, the banging of tables and strongly worded resolutions out of touch with the objective conditions do not bring about mass action…' The vhaVenda people treasure their indigenous forests as they not only serve as combatant to global warming but also as water-catchment areas and as a source of spirituality. It is interrelated with their dignity. It is therefore strange that foreign companies keep getting licenses to interfere with this ecosystem through mining of coal. Should this continue, the vhaVenda will not only lose their treasure but their human dignity too.
Cinderella: Women at the market plaiting each other's hair while waiting for customers to buy coal by Pearl Melho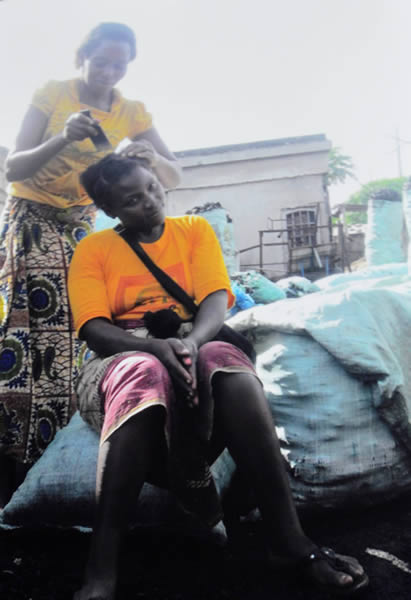 Location: Maputo, Mozambique
Description: Mozambique has an illiteracy rate of 68% among women, who as a result have limited access to the formal employment sector. In spite of this, there are numerous informal markets where people have set up their own businesses selling almost everything under the sun. Government has however neglected its obligation to assist in creating opportunities in facilitating women especially in realising their socio-economic rights and self-determination. This picture of women plaiting their hair while surrounded by black coals, speaks of the beauty that still comes out of Africa despite its challenges.
The exhibition can be seen on the second floor of the Law Building, opposite the Centre for Human Rights.