The Helen Kanzira Lecture is an annual lecture on sexual and reproductive rights in Africa, held within the framework of a consortium of 13 African universities that present the Master's programme in Human Rights and Democratisation in Africa (HRDA). The lecture is held in honour of the memory of Helen Kanzira who was a graduate of the HRDA programme and passed away in 2007, due to complications from child birth. It is an annual theme focused on a contemporary aspect of women's sexual and reproductive rights. Annually, the lecture provides an opportunity for taking stock, for reflection, and to set priorities. It is a constant reminder – a recurring wake-up call – that maternal mortality can almost always be prevented; and that women's sexual and reproductive rights should be prioritised in policy making and implementation.
The University of Nairobi in partnership with the Centre for Human Rights, University of Pretoria, hosted this year's annual lecture on 13 July 2021. The theme focused on the 'Impact of Covid-19 on Sexual and Reproductive Health & Rights in Africa.' Prof Frans Viljoen, the Director of the Centre, delivered the opening remarks. Dr Jacinta Muteshi delivered the keynote address which was followed by a discussion by Prof Patricia Kameri-Mbote and Ms Naomi Njuguna.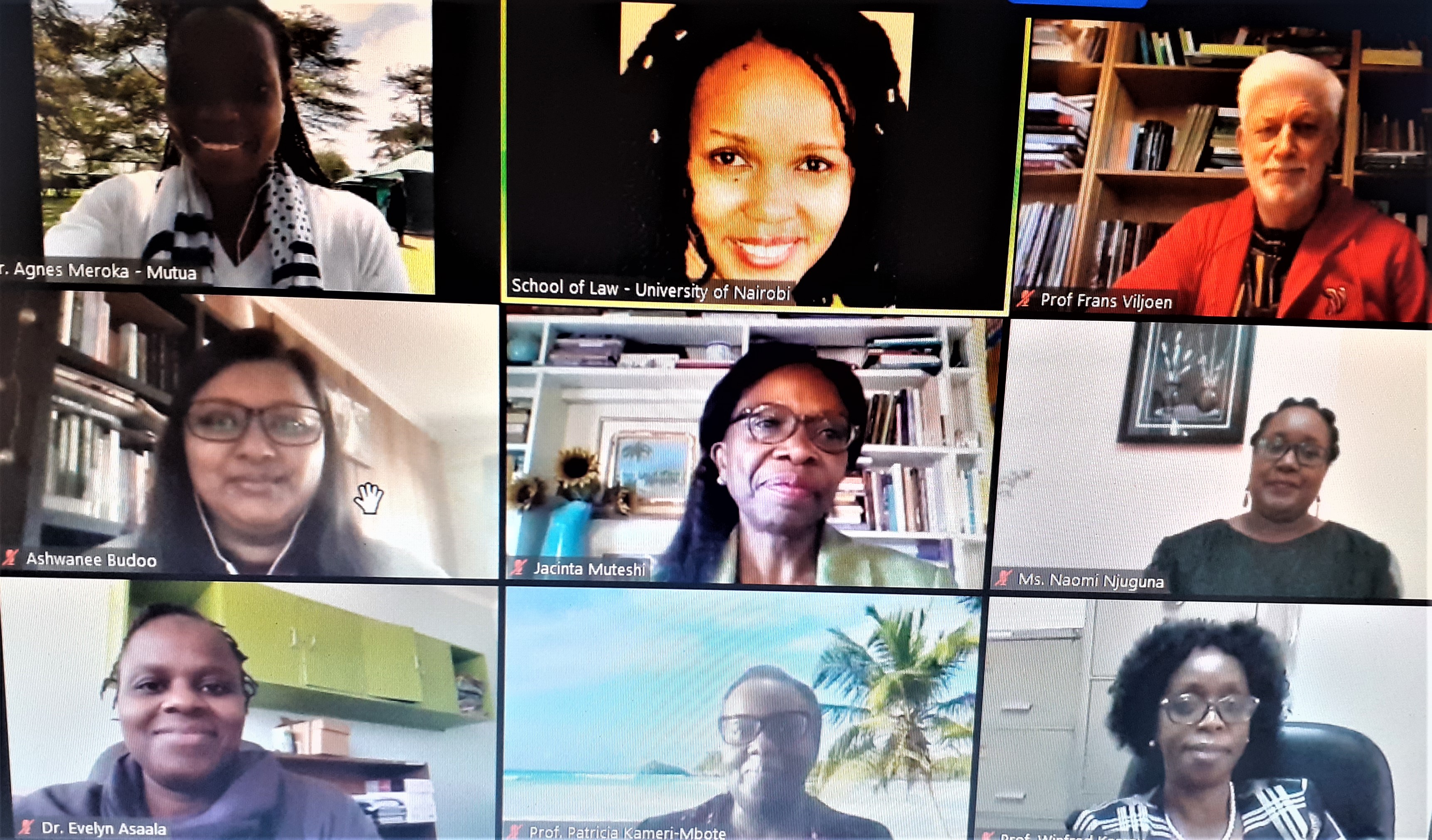 The keynote address underscored the importance of prioritising sexual and reproductive health rights (SRHR) in a pandemic. It was observed that while SRHR encompasses the right of all individuals to make decisions concerning their bodies and reproduction free from coercion and violence, COVID-19 has placed huge demands and a heavy strain on health systems. Societal responses to the pandemic, such as local or national lockdowns, physical distancing, travel restrictions and economic slowdowns have created disruptions in care and redirected resources from SRHR. Furthermore, equipment and staff involved in the provision of sexual and reproductive health services may be diverted to fulfil pandemic emergency needs, and people may be reluctant to go to health facilities for sexual and reproductive health services given the COVID-19 pandemic. There is an urgent need to use the opportunity created by COVID-19 to place SRHR firmly at the top of public health agendas, to make SRHR systems more resilient and better prepared for future pandemics and for stronger government stewardship of SRHR.
Prof Kameri-Mbote's discussion introduced a gender masculinity perspective on these issues while Ms Njuguna gave her perspective of public health workers. Ms Njuguna made the observation that SRHR contains two distinct yet interrelated rights – sexual health rights and reproductive health rights. She warned against the emphasis on reproductive rights while critical aspects of sexual health are easily overlooked by policymakers and regulators. She also underscored the fact that apart from addressing the social determinants of sexual and reproductive health rights, countries in Africa also need to critically consider the working conditions of healthcare workers, particularly those that affect their psychosocial health and wellbeing, so that these healthcare workers can provide quality services to patients. She further advocated for the deployment of innovative digital platforms and services to compliment face-to-face clinical services (especially counselling services).
---
For more information,please contact