The Centre for Human Rights in an effort to spearhead the belief of leaving no one behind acknowledges the importance of a rights-based approach to ageing and calls for the promotion and protection of the rights of older persons.
When it comes to COVID-19, the disease caused by the new coronavirus, older persons are especially vulnerable to severe illness. Research is showing that adults who are above 60 and older, especially those with pre-existing medical conditions, especially heart disease, lung disease, diabetes or cancer are more likely to have severe or even deadly coronavirus infections than other age groups. Older persons are one of the most vulnerable groups that are often overlooked in most cases and their rights are usually violated during a crisis. Hence the Women's Right Unit (WRU) decided to have a 10-day campaign highlighting the impacts of COVID-19 on older persons and what can be done to make life better for older persons mainly during the lock-down period. To this end, the #AgeWithRights Campaign which reaffirms that older persons should be able to exercise their human rights will be used for the campaign.
---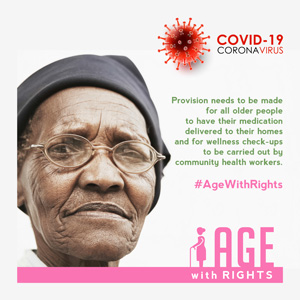 Day 1
Provision needs to be made for all older persons to have their medication delivered to their homes and for wellness check-ups to be carried out by community health workers.
According to the World Health Organization (WHO), over 95% of deaths associated with COVID19 occurred in those older than 60 years. This has also been the case in the China and, most recently, in Italy where 82% fell into the 60-plus age category. Older people are greatly impacted by COVID-19 due to physiological changes associated with ageing, decreased immune function and multi-morbidity which makes them more susceptible to the infection itself. They are more likely to suffer severely from the COVID-19 disease and experience more serious complications. older people, who need to regularly frequent public health facilities to receive chronic medication or receive care, are at risk of exposure in South Africa.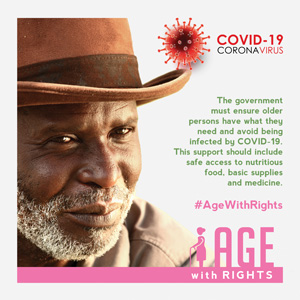 Day 2
The government must ensure older persons have what they need and avoid being infected by COVID-19. This support should include safe access to nutritious food, basic supplies and medicine.
According to the 2019 mid-year population report by Statistics South Africa, about 40% of the older population in South Africa is poor. Medical aid coverage rates are high, and about 80% is dependent on the public health system.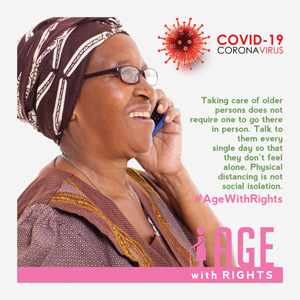 Day 3
Taking care of older persons does not require one to go there in person. Talk to them every single day so that they don't feel alone. Physical distancing is not social isolation.
Make sure older persons understand the information on COVID-19 released by the media and that they stay and feel informed and equipped with the right information.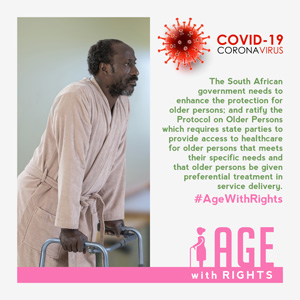 Day 4
The South African government needs to enhance the protection for older persons; and ratify the Protocol to the African Charter on Human and Peoples' Rights on the Rights of Older Persons in Africa (Protocol on Older Persons). The Protocol requires state parties to provide access to healthcare for older persons that meets their specific needs and that older persons be given preferential treatment in service delivery.
Despite the existence of the 2006 Older Persons Act in South Africa, the abuse of older persons continues to be rampant within communities and in healthcare institutions charged with their care and wellbeing. They continue to suffer gross violations of their right to dignity, right to the highest attainable standard of health and wellbeing, right to life free from discrimination and violence, amongst other violations.
Day 5
Evidence shows that COVID-19 poses a great risk to older persons and those with existing chronic conditions. In the midst of growing tensions and uncertainty, the rights and ability of older persons to access testing, health and other social services that prevent isolation are often overlooked.
Global, national and regional emergency preparedness plans do not adequately focus on the safety of older persons. Older persons' rights and needs ought to be considered. Article 15 of the Older Persons Protocol requires states to take reasonable measures to facilitate access to health services and medical insurance cover for older persons within available resources.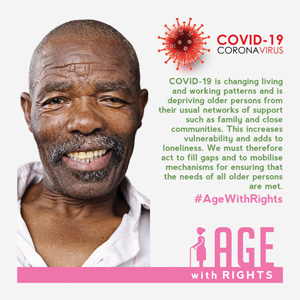 Day 6
COVID-19 is changing living and working patterns and is depriving older persons from their usual networks of support such as family and close communities. This increases vulnerability and adds to loneliness.
These factors add to anxiety at a time when healthcare systems and other provision to which they might turn for assistance are already overloaded. We must therefore act to fill gaps and to mobilise mechanisms for ensuring that the needs of all older persons are met.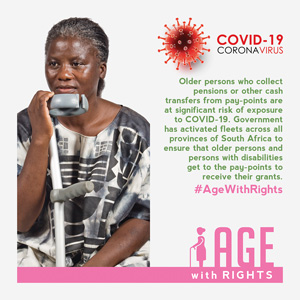 Day 7
Older persons who collect pensions or other cash transfers from pay-points are at significant risk of exposure to COVID-19.
The Minister of Social Development, Ms Lindiwe Zulu announced efforts to prevent large groups of people from congregating simultaneously at cash pay-points. She noted that the government has activated fleet across all provinces of South Africa to ensure that older persons and persons with disabilities get to the pay-points to receive their grants. Also, older persons are allowed early morning access to pay-points and are being prioritised over the general population also waiting in line for cash transfer payments.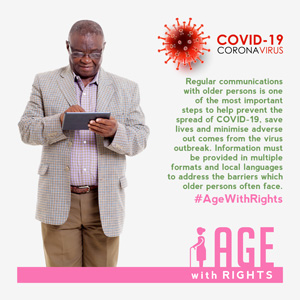 Day 8
Regular communications with older persons is one of the most important steps to help prevent the spread of COVID-19, save lives and minimise adverse outcomes from the virus outbreak.
Information must be provided in multiple formats and local languages to address the barriers which older people often face, related to literacy, language and disability.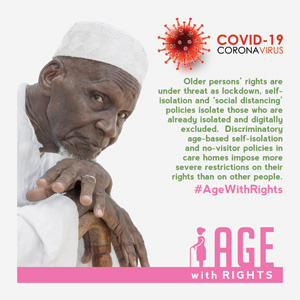 Day 9
Older persons' rights are under threat as lockdown, self-isolation and 'social distancing' policies isolate those who are already isolated and digitally excluded. Discriminatory age-based self-isolation and no-visitor policies in care homes impose more severe restrictions on their rights than on other people.
There is a need to end ageism and age discrimination against older persons in the response to the COVID-19 pandemic. Virtual ways should be made available for them to communicate with their loved ones.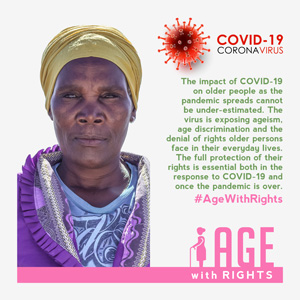 Day 10
The impact of COVID-19 on older people as the pandemic spreads cannot be under-estimated. The virus is exposing ageism, age discrimination and the denial of rights older persons face in their everyday lives.
The full protection of their rights is essential both in the response to COVID-19 and once the pandemic is over