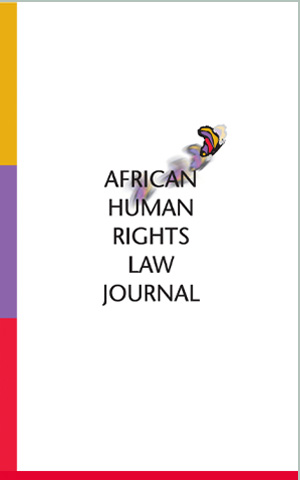 The African Human Rights Law Journal (AHRLJ), a leading peer-reviewed journal focused on human rights related topics of relevance to Africa, Africans and scholars of Africa. As democratic practices and the protection of human rights struggle to become rooted in Africa, the Journal aims to contribute towards strengthening indigenous African scholarship.
The first issue of the AHRLJ appeared in 2001. Since then, the Journal has appeared twice a year, in July and December, without interruption. The full text of the AHRLJ is made freely available online immediately upon publication. The AHRLJ is licensed under a Creative Commons Attribution 4.0 International License (CC BY 4.0).
The AHRLJ is published by the Pretoria University Law Press (PULP) which took over from Juta as publisher in 2013. It is published in association with the Centre for Human Rights, Faculty of Law, University of Pretoria.
African Human Rights Law Journal: 2022
---
African Human Rights Law Journal: 2021
---
African Human Rights Law Journal: 2020
---
African Human Rights Law Journal: 2019
---
African Human Rights Law Journal: 2018
---
African Human Rights Law Journal: 2017
---
African Human Rights Law Journal: 2016
---
African Human Rights Law Journal: 2015
---
African Human Rights Law Journal: 2014
---
African Human Rights Law Journal: 2013
---
African Human Rights Law Journal: 2012
---
African Human Rights Law Journal: 2011
---
African Human Rights Law Journal: 2010
---
African Human Rights Law Journal: 2009
---
African Human Rights Law Journal: 2008
---
African Human Rights Law Journal: 2007
---
African Human Rights Law Journal: 2006
---
African Human Rights Law Journal: 2005
---
African Human Rights Law Journal: 2004
---
African Human Rights Law Journal: 2003
---
African Human Rights Law Journal: 2002
---
African Human Rights Law Journal: 2001