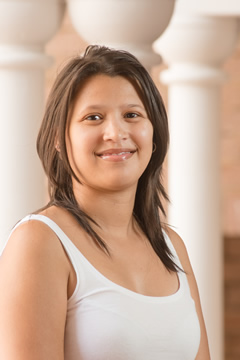 Country / Where did you grow up:
Windhoek, Namibia
Academic qualifications:
Bachelor of Arts Psychology and Sociology (2012) University of Namibia
Master of Arts Gender and Development (2016) University of Namibia
Experience:
During my time as a student at the University of Namibia with my BA degree I was an active member with the Action Research Team in advocating for women's equality and empowerment and issues around Gender Based Violence. I did my MA degree full time and in the beginning of 2016 I was able to help establish an NGO called Right for Respect which aim was to raise awareness on GBV among the youth of Namibia. However, since July 2016 I have been a part of Lifeline/Childline Namibia an NGO which core business is counselling and advocacy on children's issues. I have been working there as a helpline counselor but also part of advocacy work around children, GBV and gender issues.
Academic fields of interest:
Advancing the sexual and reproductive health rights in Namibia in terms of meeting the needs of women and girls specifically in poor urban and rural areas in accessing sexual and reproductive health care services. As well as advocacy work around issues of GBV, harmful gender stereotyping and the legal system of Namibia to strengthen the laws that are already present in advancing women and girls rights and access to legal services. I strive to be part of policy change and development within my country and beyond its borders as these issues transcend to all African states.
Position prior to the programme:
Helpline Counselor