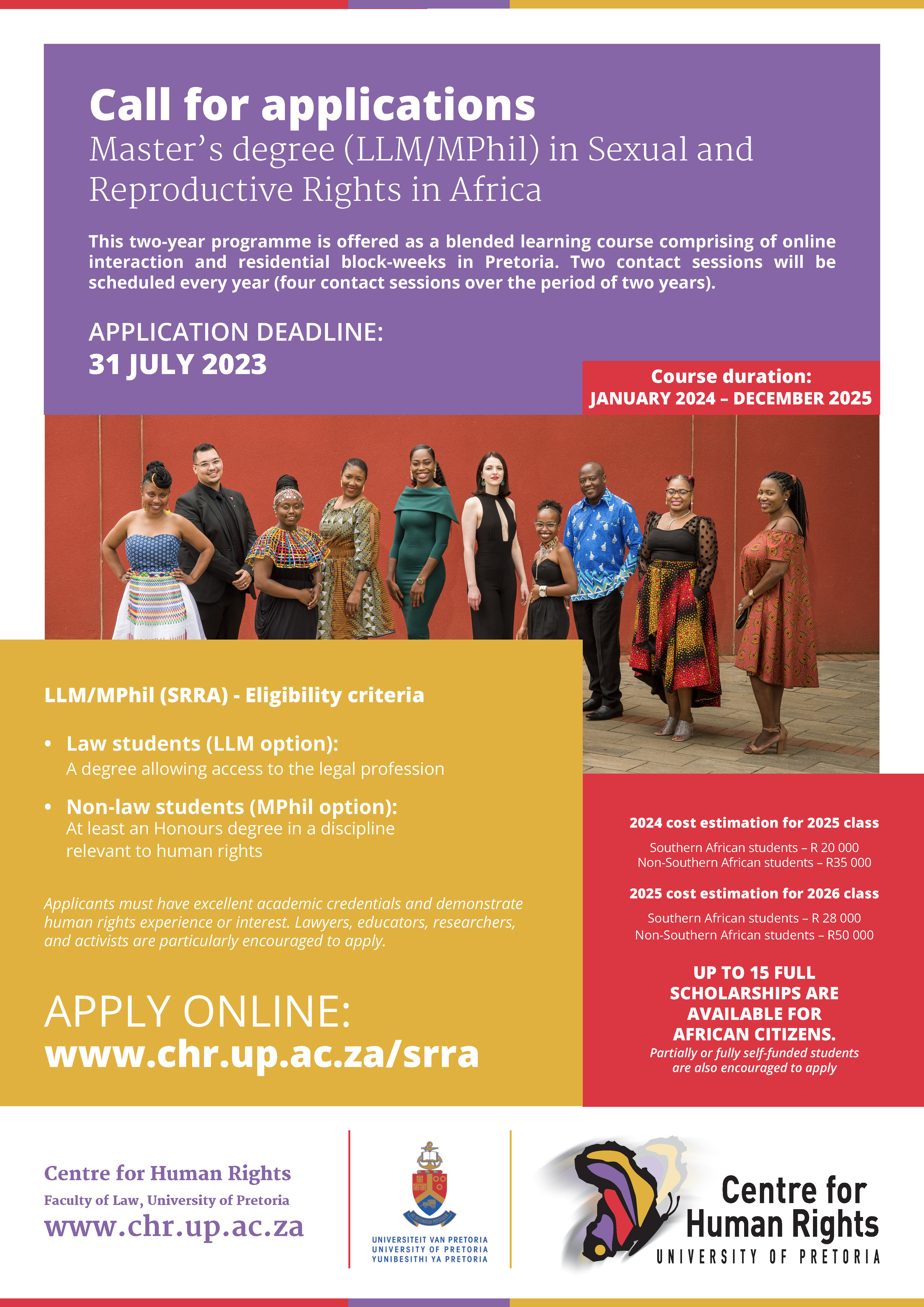 The Master's degree (LLM/MPhil) in Sexual and Reproductive Rights in Africa is a two-year programme that is offered as a blended learning course comprising of online interaction and residential block-weeks in Pretoria. Two contact sessions will be scheduled every year (four contact sessions over a period of two years).
Admission requirements
For the LLM degree
An LLB or equivalent qualification required for entrance into the legal profession.


For the MPhil degree
At least an honours degree in an academic discipline relevant to sexual and reproductive rights in African; or any other qualification in an academic discipline relevant to sexual and reproductive rights in African that allows for admission to a master's programme at the institution where the undergraduate qualification was obtained. If that qualification has a duration of less than four (4) years, substantial proven practical or professional experience in sexual and reproductive rights in Africa, subject to the discretion of the Dean, is further required.
Foreign qualifications are subject to SAQA requirements.
Applicants must have excellent academic credentials and demonstrate human rights experience or interest.
A maximum of fifteen students will be accepted for the 2023 academic year.
In addition to registration fees, students have to finance their travel and accommodation during the block weeks, which are compulsory to attend. (A total of five block weeks are scheduled over two years)
Scholarships
A limited number of up to 15 students are selected per year. Students who do not receive scholarships may be admitted as self-funding funding students, provided they meet all the minimum admission criteria.
The following documents will be requested when during your application:
Previous academic records/transcripts
Previous degree certificate(s) (Please note that if this is not a four-year honours degree, you have to attach a letter from the University where you obtained your undergraduate qualification, indicating that this degree allows admission to a master's programme at that institution).
Copy of bio-data page of passport
A good quality photograph of yourself
For applicants who did not obtain their qualifications in English: TOEFL, SAT1 or IELTS Test certificate.
Deadline for receipt of applications for the 2023 class is

30 July 2023

.
Shortlisted applicants will be notified by 31 October 2023