What is Africanness?
In conversation with Prof Charles Ngwena
Professor Charles Ngwena is a renowned expert on human rights law at the Centre for Human Rights, University of Pretoria. In this episode, Adebayo Okeowo talks to Prof Ngwena about his book What is Africanness? Contesting nativism in race, culture and sexualities, a visionary philosophical inquiry into the contentious issue of African identity politics. Prof Ngwena speaks about how the book explores the historical and cultural contexts in which Africans are perceived and how they perceive themselves in terms of race, culture and sexuality. He stresses the fact that identity is a concept that is not static but fluid and always changing. Prof Ngwena argues that 'Africanness' is a heterogeneous concept that accommodates difference and shows respect for diversity.
About What is Africanness? Contesting nativism in race, culture and sexualities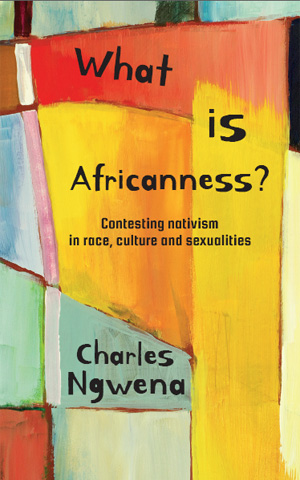 Stuart Hall, the cultural theorist and other deconstructive theorists have given us a rich theoretical template for unpacking identities as complex formations of representation. Even when we accept, as a point of departure, that identities are real and that it is not their falsity or genuineness that matters, if problematised, identities cease to be neat, singular, self-standing and static packages that speak to an integral and unified identity. The identities we take for granted, especially those that we ourselves proclaim to mark our exclusive identitarian spheres and which we invest with closures of solidarity and allegiance, are better understood as specific enunciations. Identities are always situated and always in the making. They are neither fixed nor closed but always lodged in historical contingency. In the end, identities signify how we have been positioned by, or how we position ourselves within, discourse. And so it is with African identity.
Focusing on race, culture and sexuality, What is Africanness develops an interpretive method or hermeneutics for deconstructing African identity in ways that part company with discourses of reductive sameness – which I call 'nativism – which have dominated the imagination of African identity not just during the eras of slavery, colonialism and apartheid but also in the aftermath of these historical events. The hermeneutics that What is Africanness develops are intended as transformative theoretical tools for dismantling hierarchical systems of thought and unmasking gaps and contradictions in the imagination of African identity. Ultimately, the book develops a roadmap for the recognition of heterogeneous African identity in a plural universe. It is an identity that is constantly unfolding and speaks to a multiplicity of ancestries together with their complexities, fluidity and difference. The book's arguments should not be misunderstood as asking Africans to renounce any claim to an authentic African identity. Rather, the arguments call for authenticity to be reimagined in ways that are transformative as to capture not only our past but also our present and future Africanness.
What is Africanness? Contesting nativism in race, culture and sexualities by Charles Ngwena (2018)
Published by the Pretoria University Law Press (PULP)
ISBN: 978-1-920538-82-8
Pages: 306
This conversation was recorded on 19 August 2019.
Music: Inner Peace by Mike Chino https://soundcloud.com/mike-chino Creative Commons — Attribution-ShareAlike 3.0 Unported — CC BY-SA 3.0 http://creativecommons.org/licenses/b... Music promoted by Audio Library https://youtu.be/0nI6qJeqFcc