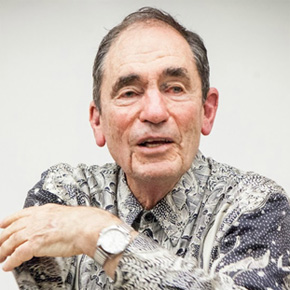 Retired Judge from the South African Constitutional Court
Biography:
Albie Sachs (2012-2018) is a distinguished lawyer, judge, activist, scholar and author. He is a renowned former South African Constitutional Court Justice and anti-apartheid activist.
At a young age, Albie was inspired by his father's wish that he grow up to be a soldier and fight for liberation. Abie Sachs was at the forefront of the struggle for justice and freedom in South Africa during apartheid. Even through a period of exile and losing and arm and sight in his eye from a bomb planted in his car, he strove to make South Africa a better place for all.
As a second year law student, at the age of 17, Sachs began his career in human rights activism. He was a part of the Defiance of Unjust Laws Campaign at the University of Cape Town. Upon graduation and passing the Cape bar, his practice involved defending people "charged under racist statutes and repressive security laws." His involvement in this line of work landed him in trouble with the police on several occasions as he was subjected to imprisonment, solitary confinement, detention, and banning orders.
In the 1980's, Sachs helped to draft the ANC's ((African National Congress)  Code of Conduct along with its statues with Oliver Tambo, the leader of the organization. He also worked to prepare a new democratic constitution for South Africa during this time.
In the 1990's, Albie Sachs became a member of the National Executive of the ANC and a member of the Constitutional Committee of South Africa. He took part in the negotiations that made South Africa a constitutional democracy and he was appointed by Nelson Mandela to serve in the Constitutional Court. Through his time as judge, he earned the reputation as the conscience of the Court. He made landmark judgments including one that made South Africa the fifth nation to recognize same-sex marriage.