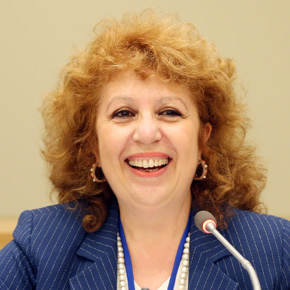 Membre, Commission du Droit International des Nations Unies
Biographie:
Nilufer Oral est membre de la faculté de droit de l'Université d'Istanbul Bilgi, où elle enseigne des cours de droit international et de droit international de l'environnement. Elle est membre de la Commission du Droit International des Nations Unies et coprésidente du Groupe d'étude sur l'élévation du niveau de la mer en relation avec le droit international.
Dr. Oral a été conseiller juridique auprès du ministère turc des Affaires étrangères sur des questions liées au droit de la mer. De 2009 à 2016, elle a été négociatrice sur les changements climatiques pour le ministère. Elle était membre du groupe de conseil juridique du ministère turc des Affaires étrangères pour la Commission d'enquête Palmer des Nations Unies sur l'incident de la flottille du 31 mai 2010. Dr. Oral a également comparu devant le Tribunal international du droit de la mer dans le cadre de la demande d'avis consultatif de la Commission sous-régionale de la pêche (CSRP).
Elle a siégé au Conseil de International Union for Conservation of Nature (l'UICN) (2012-2016) et est actuellement membre du comité directeur de la Commission Mondiale du Droit de l'environnement de l'UICN. Elle a également été présidente de l'Académie de droit de l'environnement de l'UICN. Dr. Oral est membre distingué de la Sea Institute de Berkeley Law, de University of California à Berkeley.
En outre, elle a été chercheuse invitée et conférencière, notamment à l'Université de Californie à Berkeley, à University of Virginia, oratrice distinguée au Center for International Law et chargée de cours aux Cours régionaux de droit international des Nations Unies en Afrique, en Asie, à la National University of Singapore, Rhodes Academy on the Law of the Sea et l'Université de Malte.
M. Oral est l'éditeur de la série pour les publications du International Straits of the World (Brill), et membre du comité de rédaction de la Série sur la Société Européenne de Droit International (Oxford) et rédacteur en chef adjoint, Perspectives sur la Recherche dans le Droit de la Mer (Brill). Elle a publié de nombreuses publications sur le droit de la mer et le droit international et a participé à de nombreuses conférences internationales. Elle est également membre de l'American Society of International Law et de la European Society of International Law.