3rd Nelson Mandela World Human Rights Moot Court Competition

University of Pretoria, South Africa 8-9 December 2011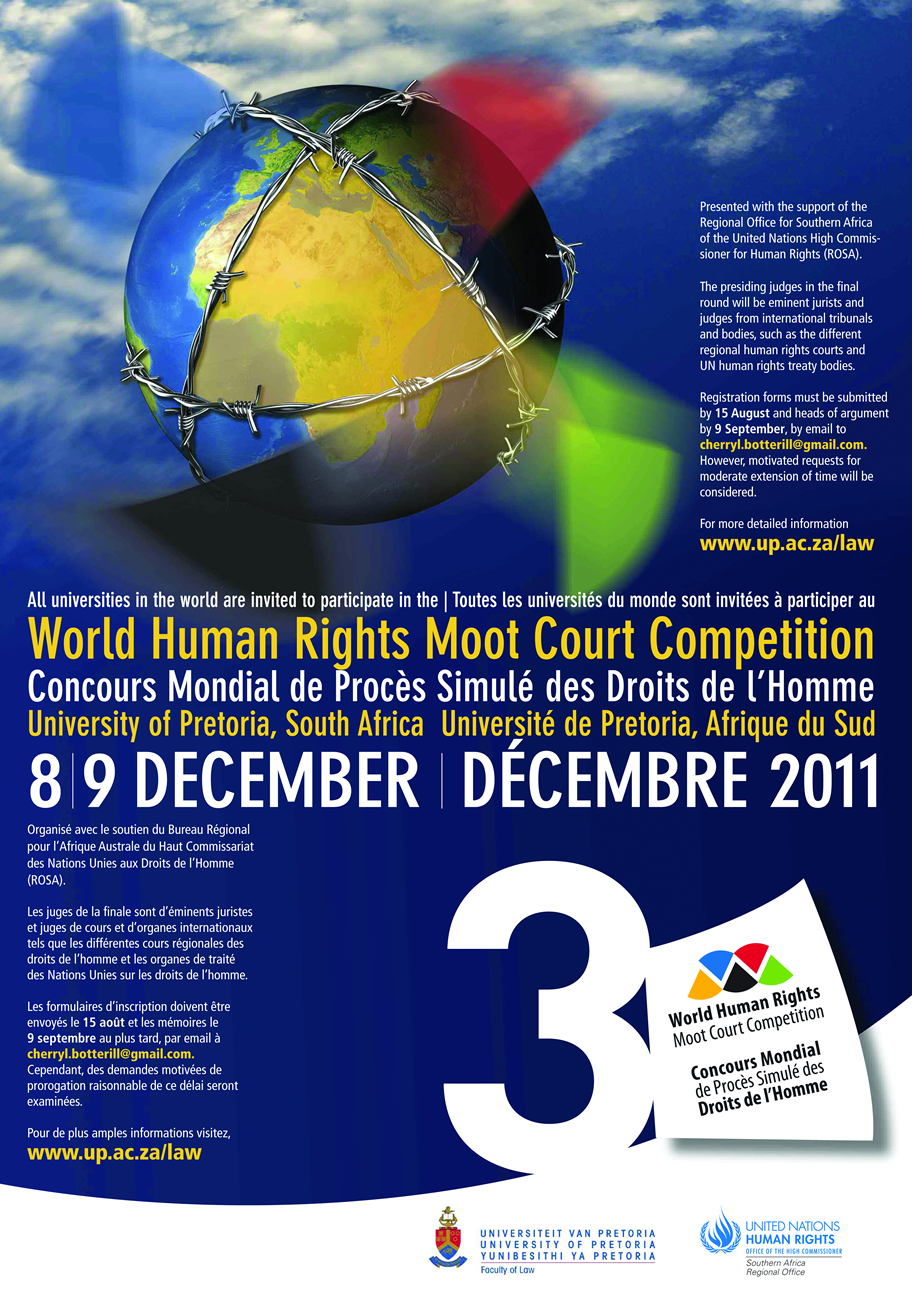 Hypothetical case

Download hypothetical case
Official results
The official languages of the 2011 Moot were English and French.
The 15 fifteen teams were invited to participate in the preliminary and final rounds in Pretoria. The three teams from each of the different UN regions were paired against one another to determine the regional winner. The two regional winning teams with the highest scores will compete against each other to determine an overall winner in the final round.
Preliminary/memorial rounds
The top university in the preliminary rounds was:
Philippines: Ateneo de Manila University


Regional rounds
Best Oralists
Students are scored individually for their oral presentations in the preliminary rounds. The best oralist is the student with the highest individual score in the preliminary rounds.
Brazil, Pontifícia Universidade Católica do Rio de Janeiro
Mr Felipe Zaltman Saldanha
USA, Yale Law School
Ms Nila Bala

FINAL ROUND
RUNNERS-UP
Yale University, USA
WINNER
West Indies Norman Manley Law School, Jamaica
Final round judges
Justice Johan van der Westhuizen (South Africa), Retired Justice, South African Constitutional Court.
Judge Dragojlub Popovic (Serbia), Retired Judge, European Court of Human Rights.
Judge Raul Pangalangan (Philippines), Judge, International Criminal Court.
Prof Cecile Aptel-Williamson (France), Senior Legal Policy Adviser, OHCHR; Associate Professor, Fletcher School of Law and Diplomacy.
Prof Robert Roth (Switzerland) Director, Geneva Academy of International Humanitarian Law and Human Rights.
Mr Ibrahim Wani, Chief Africa Branch/ FOTCD, Office of the United Nations High Commissioner for Human Rights, Geneva, Switzerland.
Professor Martin Scheinin, Professor of Public International Law, European University Institute, Florence, Italy, and former UN special Rapporteur on the promotion and protection of human rights and fundamental freedoms while countering terrorism.
Judge Zak Yacoob, Justice of the Constitutional Court of South Africa, Johannesburg.
Professor Ann Skelton, Director, Centre for Child Law, University of Pretoria, South Africa; and Advocate Pansy Tlakula, Chairperson, Electoral Commission, South Africa and member of the African Commission on Human and Peoples' Rights.
Professor Christof Heyns, (Co) Director: Institute for International and Comparative Law in Africa Faculty of Law University of Pretoria and UN Special Rapporteur on extrajudicial, summary or arbitrary executions OHCHR.
Organizers/Donors/Partners/Sponsors
University of Pretoria Faculty of Law
Regional Office for Southern Africa (ROSA) of the United Nations High Commissioner for Human Rights
Participating Universities
Africa
1. Kenya: Catholic University of Eastern Africa
2. South Africa: University of KwaZulu-Natal
3. Zimbabwe: Midlands State University
Asia-Pacific
4. Indonesia: Parahyangan Catholic University
5. Philippines: Ateneo de Manila University
6. India: National Law Institute, University of Bhopal
Eastern Europe
7. Czech Republic: University of West Bohemia
8. Romania: West University of Timisoara
9. Hungary: Debrecen University
Latin America & Caribbean
10. Jamaica: Norman Manley Law School
11. Argentina: Universidad de Buenos Aires
12. Brazil: Pontifícia Universidade Católica do Rio de Janeiro
Western Europe & Others
13. United States of America: Yale University
14. Switzerland: University of Lucerne
15. United States of America: New York University