The Global Campus Policy Observatory is a 'virtual hub' which comprehends a team of seven researches from the regional programmes to produce, publish and publicly present seven different policy analyses in form of policy briefs, with the aim of making of each regional programme a solid focal point for policy expert advisory in human rights issues.
---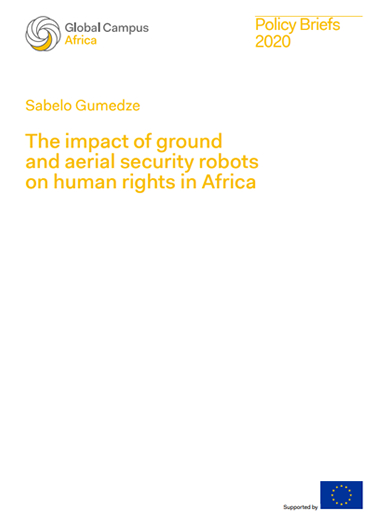 Latest Global Campus (Africa) Policy Brief
The impact of ground and aerial security robots on human rights in Africa by Sabelo Gumedze (2020)
The objective of this policy brief is to make a case for addressing the impact of the use of ground and aerial security robots on human rights in Africa.
The African continent is witnessing a rapid growth of the robotics industry and the use of ground and aerial robots is steadily increasing in the security sector. Whilst the exponential growth on the use of security robots arguably augment safety and security, many African countries have not enacted frameworks for their regulation. The introduction of security robots and their interface with human beings automatically bring the subject of human rights to the fore. The use of security robots impact on the enjoyment of a plethora of human rights. These include the following: labour and/or employment rights; the rights to privacy and freedom of expression; the rights to assembly and freedom of movement; and the rights to life and human dignity. As a result of the impact of security robots on the enjoyment of human rights, this policy brief makes the case that attention is required from policy makers at the level of the African Union (AU).
The policy brief suggests that as the use of security robots will pose a serious threat in terms of cyber security, and especially on cybercrime, Africans states must ratify the AU's Convention on Cyber Security and Personal Data Protection, which was adopted in 2014. In order to comprehensively address the concerns relating to the use (and misuse) of security robots and the enjoyment of human rights, the policy brief advocates for a comprehensive regional instrument that will provide guidance to African states. Such a regional instrument must be informed by cutting-edge research on the use (and potential use) of unmanned ground and aerial vehicles in Africa.