Le 28e Concours Africain de Procès Simulé des Droits de l'Homme sera accueilli par l'Université du Botswana du 1 au 6 juillet 2019, à Botswana, au Gaborone.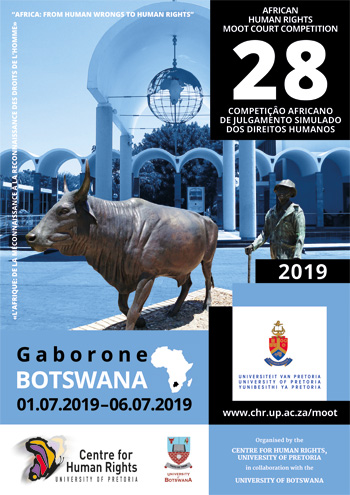 Programme 2019

Télécharger le programme du 27e Concours Africain Procès Simulé des Droits de l'Homme
Documents 2019

Cas hypothétique


Réglement officiel


Supplement A: Instructions aux Juges


Supplement B: Page de Garde du Memoire


Supplement C: Feuille de Note des Memoires


Supplement D: Feuille de Note Tour Preliminaire


Supplement E: Feuille de Note Finale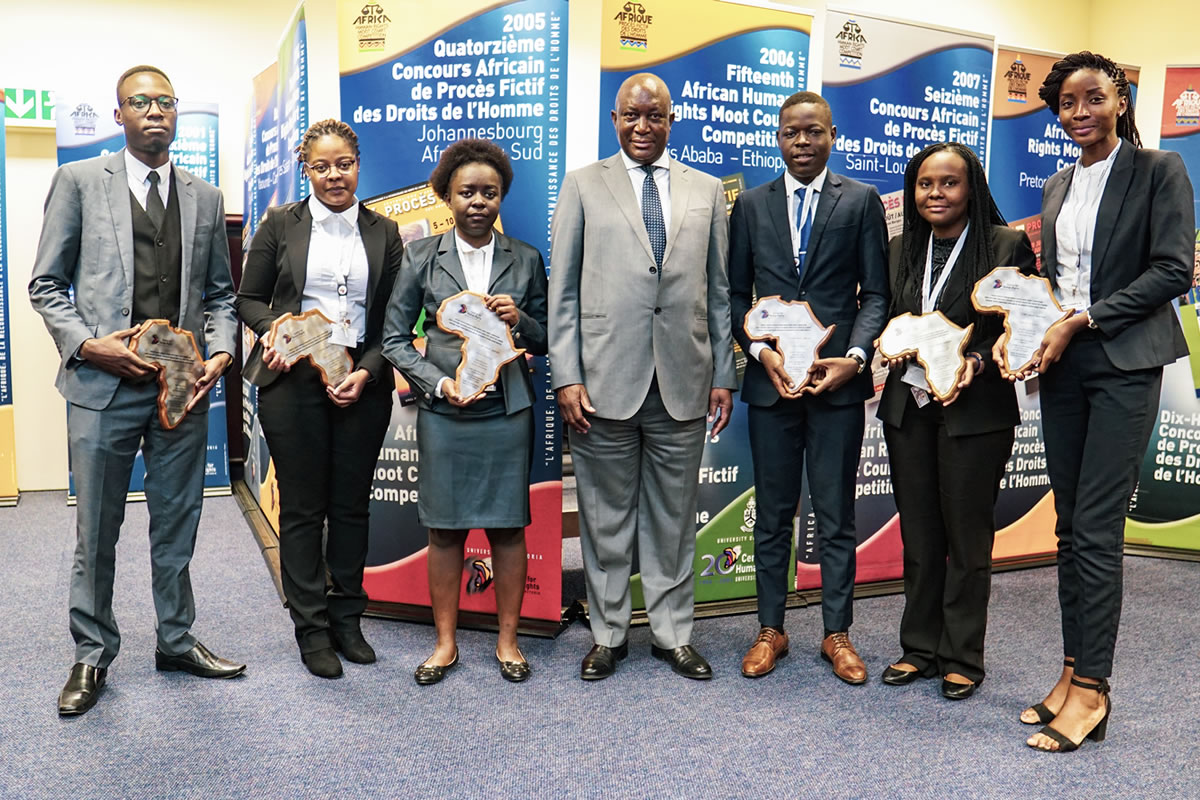 ---
Juges 2019
---
Résultats finaux: 2019
La finale du 28ème Concours Africain de procès simulé des droits de l'homme, qui a eu lieu le 6 juillet 2019, à la Haute Cour de droit du Botswana, à Gaborone, a été remportée par équipe combinée comprenant de l'University of Nairobi (Nairobi) et l'University of Namibia (Namibie) et de l'Université Félix Houphouët (Côte d'Ivoire).
L'équipe combinée à la deuxième place composée du Zambeze University (Mozambique), Makerere University (Ouganda) et l' Université de Pretoria (Afrique du Sud).
Le tour final a été présidé par le juge Terence Rannowane (Juge en chef du Botswana), la Commissaire Jamesina Essie, King (Mme) (Commission africaine des droits de l'homme et des peuples), Dr. David Padilla (Ancien Secrétaire exécutif adjoint de la Commission interaméricaine des droits de l'homme), Dame Justice Maria Mapani-Kawimbe (juge à la Haute Cour de Zambie, membre du Comité africain d'experts sur les droits et le bien-être de l'enfant), la Professeure Laurence Burgorgue-Larsen (juge à la Cour constitutionnelle d'Andorre) , Mme Farida Mamad (Directrice adjointe du Judiciary School of Mozambique), M. Alexander McLean (Fondateur et Directeur du African Prisons Project).
Quarante équipes au total ont participé à cet événement annuel, qui a été organisé en 2019 par le Centre for Human Rights et acceuilli par la Faculté de droit de l'Université du Botswana.
Les résultats suivants correspondent au classement des 20 meilleures équipes anglophones, des 5 meilleures équipes francophones et des 3 meilleures équipes lusophones lors des tours préliminaires. Ceux-ci sont suivis des meilleures mémoires et le meilleur oraliste des trois groupes linguistiques.
Classement par équipe
Anglais
| | | |
| --- | --- | --- |
| Ranking | University | Country |
| 1 | Makerere University | Uganda |
| 2 | University of Namibia | Namibia |
| 3 | University of Nairobi | Kenya |
| 4 | University of Pretoria | South Africa |
| 5 | Kwame Nkrumah University of Science and Technology | Ghana |
| 6 | University of Lagos | Nigeria |
| 7 | University of Stellenbosch | South Africa |
| 8 | University of Malawi | Malawi |
| 9 | Great Zimbabwe University | Zimbabwe |
| 10 | Uganda Christian University | Uganda |
| 11 | University of Ghana | Ghana |
| 12 | National University of Lesotho | Lesotho |
| 13 | American University in Cairo | Egypt |
| 14 | University of Cape Coast | Ghana |
| 15 | University of Witwatersrand | South Africa |
| 16 | University of the Western Cape | South Africa |
| 17 | Nelson Mandela University | South Africa |
| 18 | University of Fort Hare | South Africa |
| 19 | University of Cape Town | South Africa |
| 20 | University of Johannesburg | South Africa |
Français
| | | |
| --- | --- | --- |
| Classement par équipe | Université | Pais |
| 1 | Université Félix Houphouet Boigny de Cocody | Côte d'Ivoire |
| 2 | Université de Kinshasa | Democratic Republic of Congo |
| 3 | Institut Universitaire d'Abidjan | Côte d'Ivoire |
| 4 | Universite Virtuelle du Senegal | Senegal |
| 5 | Université Cheikh Anta Diop de Dakar | Senegal |
Portugais
| | | |
| --- | --- | --- |
| Rankings da equipe | Universidade | Pais |
| 1 | Universidade Zambeze | Moçambique |
| 2 | Universidade Eduardo Mondlane | Moçambique |
| 3 | Jean Piaget | Angola |
Classement Memoires
Anglais
| | |
| --- | --- |
| Ranking | University |
| 1 | University of Namibia |
| 2 | Makerere University |
| 3 | Kwame Nkrumah University of Science and Technology |
| 4 | University of Stellenbosch |
| 5 | American University in Cairo |
Français
| | |
| --- | --- |
| Ranking | Université |
| 1 | Université Félix Houphouet Boigny de Cocody |
| 2 | Institut Universitaire d'Abidjan |
| 3 | Université de Kinshasa |
| 4 | Universite Virtuelle du Senegal |
| 5 | Université Cheikh Anta Diop de Dakar |
Portugais
| | |
| --- | --- |
| Ranking | Universidade |
| 1 | Universidade Eduardo Mondlane |
| 2 | Universidade Zambeze |
| 3 | Jean Piaget |
Meilleurs orateurs
Anglais
| | | | | | |
| --- | --- | --- | --- | --- | --- |
| Ranking | Country | Title | Surname | Other Names | University |
| 1 | Kenya | Ms. | Amor | Aska Judith | University of Nairobi |
| 2 | South Africa | Mr. | Coetzee | Kiranteba | University of Pretoria |
| 3 | Uganda | Ms | Kagina | Daniella Mushikazi | Makerere University |
| 4 | Namibia | Ms. | Gaoses | Dandago Dibasen | University of Namibia |
| 5 | South Africa | Ms. | Sekati | Phenyo Nomasonto Morwesi | University of Pretoria |
| 6 | Uganda | Mr. | Mpaata | Jerome | Makerere University |
| 7 | Kenya | Ms. | Mwendwa | Rachel Kathini | University of Nairobi |
| 8 | Lesotho | Ms. | Thetsane | Mamohau | National University of Lesotho |
| 9 | Uganda | Ms | Naiga | Shubrah Kasozi | Uganda Christian University |
| 10 | Nigeria | Ms | Fayinka | Abisola Tiwalade | University of Lagos |
| 11 | Nigeria | Mr. | Otitoola | Olufolajimi Aduralere | University of Lagos |
| 12 | South Africa | Mr. | Xaba | Bongumusa | University of Johannesburg |
| 13 | Ghana | Ms. | Dei-Tumi | Emmanuel | University of Ghana |
| 14 | Zambia | Ms. | Katele | Cheya | University of Lusaka |
| 15 | Ghana | Mr. | Sasu | Duke Aaron | Kwame Nkrumah University of Science and Technology |
| 16 | South Africa | Ms. | Mtonga | Sibabalo | University of the Western Cape |
| 17 | Ghana | Ms. | Afenyo | Esmeralda Akorfa | University of Ghana |
| 18 | Malawi | Ms. | Mwapasa | Martha | University of Malawi |
| 19 | Namibia | Ms. | Gumbu | Takunda Tinashe | University of Namibia |
| 20 | Zimbabwe | Mr | Chigumira | Simbarashe | Great Zimbabwe University |
Français
| | | | | | |
| --- | --- | --- | --- | --- | --- |
| Classement | Pais | Titre | Nom | Prénoms | Université |
| 1 | Côte d'Ivoire | Ms. | Lahami | Adjoua Lisa Marie Carolle | Université Félix Houphouet Boigny de Cocody |
| 2 | Côte d'Ivoire | Ms | Akemakou | Mbiatat Nabidon Melissa | Université des Lagunes |
| 3 | Côte d'Ivoire | Mr. | Silue | Nadanhan Issa | Université des Lagunes |
| 4 | Côte d'Ivoire | Mr. | Zie | Zako Franck Emmanuel | Université Félix Houphouet Boigny de Cocody |
| 5 | Senegal | Mr. | Abdouramane Gali Adam | Hanatou | Université Gaston Berger de Saint Louis |
Portugais
| | | | | | |
| --- | --- | --- | --- | --- | --- |
| Rankings da equipe | Pais | Titre | Nom | Prenoms | Universidade |
| 1 | Moçambique | Mr. | Mozangar | Azarias | Universidade Zambeze |
| 2 | Moçambique | Ms. | Tomo | Nizângela | Universidade Zambeze |
| 2 | Moçambique | Ms. | Maiquita | Arnela Muireque Baptista | Universidade Eduardo Mondlane |
| 2 | Moçambique | Mr. | Ferreira | David Upanayana | Universidade Eduardo Mondlane |
| 3 | Angola | Ms. | Gonçalves | Djamila | Universidade Católica de Angola |
| 4 | Angola | Mr. | Lumbombo | Ernesto Cutassi | Jean Piaget |
| 5 | Angola | Ms. | Cruz | Nelma Rutricia Abreu da | Jean Piaget |
Pour plus d'information veuillez contacter: